For All Those Who Have Been Hacked.
Well first of all my deepest sympathies to those who have been hacked, and although fortunately I myself have never been hacked I have had many friends who have been and I understand what they and you are dealing with. So first of all let's list down the 3 most common ways in which you could be hacked.
Brute Force
In cryptanalysis, a brute force attack is a method of defeating a cryptographic scheme by trying a large number of possibilities; for example, exhaustively working through all possible keys in order to decrypt a message, which basically means that a program will try for days even weeks all possible types of passwords until it finally matches one with your Username.
Possible Prevention:
Attempt to change your password as frequently as possible, making sure you always have letter/number combinations to maximize security. Also try to limit the amount of people who know your username, not your online handle. This will also greatly decrease the possibility of Brute Force hacks.
Keylogger
Keylogging is a diagnostic used in software development that captures the user's keystrokes. This system is highly useful for providing a means to obtain passwords or encryption keys and thus bypassing other security measures. These programs can be obtained from downloading illegal software or visiting hacker sites. However when in relation to SRO the most common way that you can obtain a keylogger is by downloading a BOT program or visiting "Gold Selling Sites".
Possible Prevention:
Do regular scans of your computer using multiple anti virus/add ware programs. Never download BOT programs or any illegal programs, and never visit any suspicious sites. However at the moment the best way to protect yourself from keyloggers is. Alternative Keyboard Layouts Most keylogging hardware/software assumes that a person is using the standard QWERTY keyboard layout, by using a layout such as DVORAK captured keystrokes are nonsense unless converted. For additional security custom keyboard layouts can be created using tools like the Microsoft Keyboard Layout Creator.
Direct Hack
Commonly known as "Trade or Party Hack" in SRO, this is when hackers, using some sort of loophole in Joy Max's coding have access to all your account information when you accept a trade or party invitation from them. With those few seconds they can get the information they need to take over your account.
Possible Prevention
Although there is no definite way to prevent this, the best way to protect yourself is to simply never accept any trade invitations or random party invitations, do all your selling through stalls and only get into parties with people who your truly trust. But remember, "Greed can overcome even the noblest of people".
How To Cope After Being Hacked?
Well now that we know the 3 main ways in which you can be hacked, what to do if one of those methods where to ever be used on you? Well first of all let's list down the way not to react after being hacked.
How Not To Cope
Screaming at the GM's demanding retribution
Although this seems to be the most, popular method it simply, in lamens terms, is the stupidest. Let me remind you of something, do you remember this: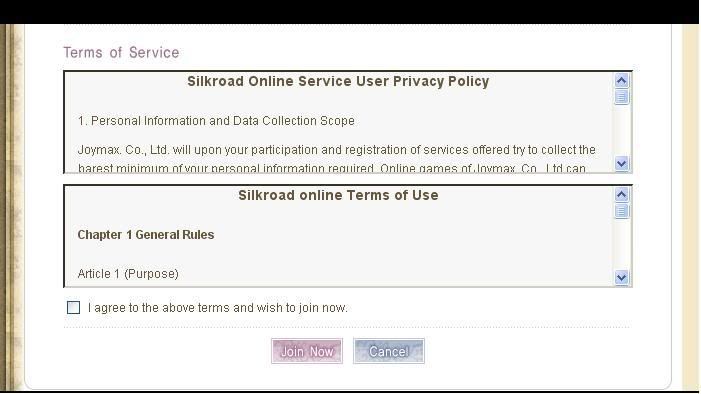 Well this simply means that you agreed to the Silk Road User Agreement when you created the account, where it clearly states a definition of what Hacking is according to SRO and that the company "Joy Max" cannot be held responsible for the loss of your account, and that they will not offer services to resolve instances of account theft/hacking. Thus clearly waving your right to oppose the GMs.
How To Cope
Well there are two ways in which you could be left after a hacking. Your character could have been deleted thus leaving you no option but to start a new char. Or your character could have been striped of all its equipments and gold. However still leaving the character intact.
If it is the first option, then the only thing you have left to do is start a new character, or if you cannot be motivated to go through everything again then simply move to a different game.
If it is the second option, then try to change your password and take better care of your account from now on, then you can ask one of your in game friend to lend a helping hand, and continue with your Silk Road adventure.
The choice is yours to make.
Now in all truth we know that hacking is something that completely ruins a game, but in all honesty it is part of life, for all those who play legit, with the soul intention of enjoying themselves there will be those who play with the soul intention of being "the best" even if they do not earn the title themselves because they stole the position.