Grand Opening Date: opened

Social Media Links
Website:
http://www.source-road.com/
Facebook Page:
https://www.facebook.com/sourceroad/

What makes Source-Road Online unique?
We are really excited to be able to finally announce the launch of our new project, Source-Road. It took a lot of time and effort, but we eventually managed to create a whole new experience for this great community – we could only achieve this with your help and are really grateful for your suggestions and wishes. We tried to re-create the game for you and optimized every option just as you all wished. We hope that you will experience just the gameplay you wished for and are really enthusiastic about this launch and all of your feedback!

What is our goal and how are we going to achieve it?
Our goal is clearly defined and really simple: We want to found a great community of active, friendly and eventually good and really strong players. We want to make the founding of such a community possible by
Supporting all of you as good as we can
Organizing and holding events on a regular basis
Providing a forum so you can exchange your opinions
Weekly updates (New items, patches…)
Max. degree 11
Auto-EQ NPCs (Other solutions led to latency problems in the past)
Taking all this to account, we believe that we can offer you one of the best (if not the best), community-based experiences.

Source-Road Crew
To keep it simple, we're are team of two developers. We worked really hard to realize this project and are proud to have finally made it. Even though we're a bit older, we think that the work, time and money we invested in this project was worth it – we are really satisfied with our results and hope that you will be too, of course.
Proomat

–

Developer, Advertiser

Series

–

Developer

Source-Road Trailer
Server features
Information|
Type
Cap|
110
Degree|
11
Race|
EU&CH
HWID Limit|
3
Silk/Hour|
2
Exp&Sp|
100x
Party Exp&Sp|
150x
Droprate|
30x
Goldrate
| 20x
Jobrate|
25x
Magic Pop|
5x
Alchemy Rate|
3x
Guild Limit|
30
Union Limit|
2
Auto Equipment|
Yes
Auto Events|
Yes
CTF|
Yes
Battle Arena|
Yes
Purification Pills Bug|
Fixed
Guild/Union Emblem|
Working
Botting|
Allowed
Starting Items:
We're giving you these items to make things easier early on!
1x 100% Exp. Helper

1x 60% Exp. Helper

1000x HP Potion

1000x MP Potion

50x Instant Return Scrolls

10x 100% Movement Speed Scrolls

1x Grab Pet 3days

1x Grey Wolf Fellow Pet

200,000 Skill point
1,000,000 Gold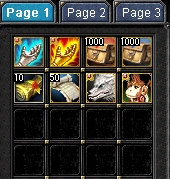 Auto Equipment

We're adding auto equipment system to make sure you won't have much troubles early on in the server and you can start grinding for your gear without tough suffering,also to help you leveling up faster.
Your items will change automatically when you reach the level for the next degree,it'll be Sun +5 7 INT 7 STR
It works from degree 1 up to degree 9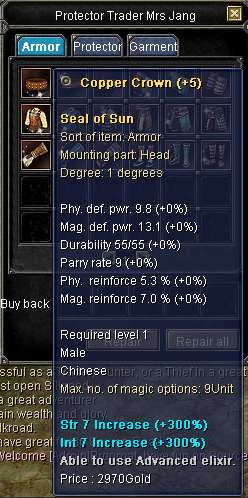 Automatic Events

We added the automatic events system to make sure that the game is Play2Win and to make it up for people that who don't bot 24/7 and these are our current working events and more will be added:
Unique event
Last party number
Trivia (question and answer)
Kill the GM Event
Complete words
Arrange words
Alchemy event
PvP event
Silk Lottery
Gold Lottery
Hide & Seek
Search & Destroy
All events are giving Silks to the winners!
Our filter functions
You cannot recieve silk/h before Lvl 110.
You cannot use tracing while in Job Mode.
You cannot drop goods in town.
You cannot spawn pets in fortress war.
You cannot join Battle Arena before Lvl 100.
You cannot join Capture the flag before Lvl 100.
You cannot do that Exchange Bug.
Global delay is 30 seconds.
Our alchemy
We have decided to make the maximum plus
12!
to maintain the oldschool gameplay,and we have adjusted our rates a little bit to fit into a private server(a long term one tho) the rates aren't too high and aren't too low you can call them "Average".
Our website features
Thanks to kokspflanze
we have made many features to provide them with as many services as possible and to make it easier to get stats/control their accounts.
Working ranking sytstem (Player, Guild, Thief, Hunter and Trader)
Easy support ticket system with fast response
Servertime with all upcoming events
Core server informations
News
Donatepanel
Character unstuck and unique list coming soon!
Keep in mind there's always more to discover!

Signature Event
Support us by putting our signature and we'll give u 50 silk at the grand open as a thank for your support,just hit us a message on facebook in the grand open.
Code:
[CENTER][IMG]http://i.epvpimg.com/hrzwgab.png[/IMG]
[URL="https://www.source-road.com"]Source-Road[/URL][/CENTER]