Beta: 14. May 2017
Opening: 01. June 2017
** LONG TERM PROJECT **
After Beta-Phase Chars will be deleted! You have to follow our Rules. We will strictly punish everyone who is playing against our Rules. We'll check every report and every decission is final. If you want to play on our Servers, you have to follow these simple rules. If everyone follows them, we can and will guarantee a Long Term Server. Those who dont follow our Rules will be banned to keep the bad mood out of our Servers and to keep the Long Term Gameplay alive. So please dont cry if you get banned. "I dont know the rules is NEVER a valid apologize!"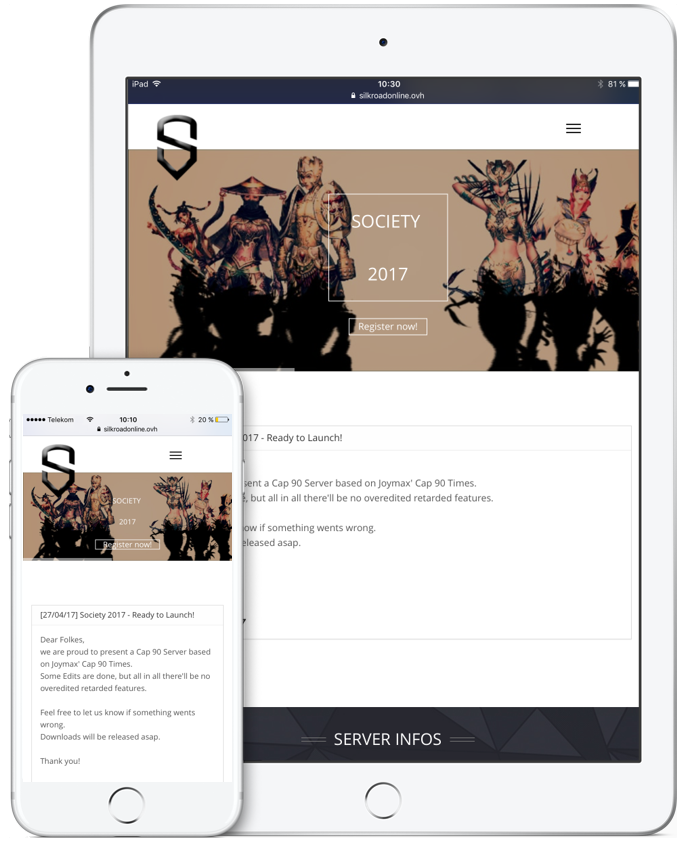 High-Featured Website
SocietySRO is an iSRO-Style Server. We are providing a Cap 90 Server (EU&CHN) based on Jobbing, Unique hunting and PVP/PVE. We have got some extras to balance the gameplay and enviroment a bit. Most things are like you know from a Cap90 iSRO Server. We edited and added some things, which makes gaming more comfortable. We highered Stacks, we are offering Items with Blues in NPC for faster grinding and we are offering better priced Items for Reskilling, Stat Reset and much more just to make it more comfortable to change Builds. We dont put much energy to develop and create new ultra features. Our aim is to provide a long term server. If you are looking for a futureistic server, you are wrong here. We are looking for a community which is used to play on a server with low rates and isro aspects. You'll may check out our Beta - if you give us feedback, we are able to make the server even better. Just let us know. Everyone has his preferred Cap, and we want to make our Server the most preferred and favoured Cap90 Server out now.

Website

Download Client

Register

Like us on Facebook

SocietySRO Teaser - Watch now!


General Overview
Start Items and Equipment
Elixir Glow
Alchemy Rate
Teleport
Stacks
Quests + QuestRewards
Custom Skills
Job Temple
Equipment at NPC
Beta Rewards

Suggestions
Reporting
Re-Skilling
Weekly Gold Lottery
Random Silk Scroll
Fair Event Rewards
Forgotten World
Custom Unique
Great Job Suits

Webshop
Ranking - Char/Job/Guild
Market Overview
Unique Spawninfo
Suggestions
Reports
Weekly Gold Lottery
Donate System


_________________


SocietySRO | Cap 90 | Balanced | Long Term | iSRO Rates