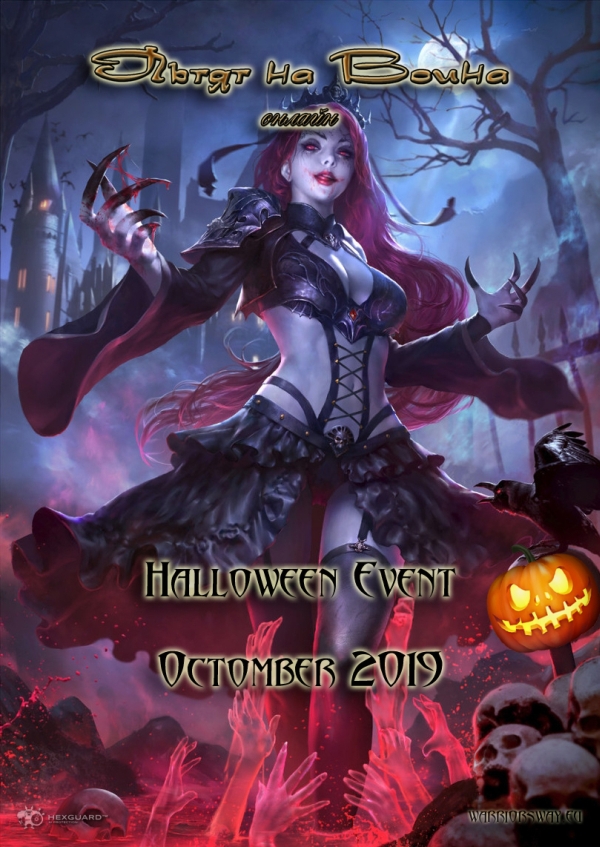 Game Updates - 03.10.2019
- Started new event
'Halloween preparation 2019'
. The event contains a couple of small events. The first one 'Halloween Event' is required from players to hunt and kill the monsters
Halloween Ghost
. Some of the Halloween Ghosts will drop
Halloween pumpkins
. Collect at least 10 Halloween pumpkins and bring them to So Ok for surprise rewards. There is a small event counter located in-game screen. On every 10 traded Halloween pumpkins the counter rises with 1 (the number is refreshing every 10 minutes). If the players collect the required count of Halloween pumpkins , the whole server will gain a new bonus exp event:
+100% EXP/SEXP for a period of 48 hours
. The first target of Halloween pumpkins is 50 (500 traded Snow Flakes to So Ok), the second is 101 (1001 Snow Flakes) Unfortunately, the count is automatically increased by the game server and for the moment we can't change it. For each
Halloween Ghost kill
, the players can obtain a small 5 minutes bonus buff from them like
+15 STR/INT, abnormal status protection and many more
. On the second event 'Ghosts Hunting Event' in every 100 Halloween Ghost kills, the player that killed the 101 mob will get individual
bonus buff +100% EXP/SEXP for a period of 1 hour
. Both bonuses can be used together.
Important Notes: The bonus from 'Halloween Event'/'Ghosts Hunting Event' and 'Double EXP Event' cannot be merged due to server restriction and the bonus is always +100%
- Another additional Halloween event is started.
So-Ok
prepared new items in the
'Jewelry Boxes'
, prepare yourself about Halloween celebration with
new costumes, fireworks, unique transport pets
and more.
- Added
full avatar set
(3 parts) of
Demon Shaitan
(limited edition) and new grab pet Ghost
- Reduced
prices by 30 %
(JP only) of
Alchemy Stone of repair (8th/9th/10th degree)
- Fixed Item Mall price of the item
'10% damage inc/abs scroll'
from 1900 -> 700 Rubins
- Added
waiting reuse time of 180 seconds
on
'Instant resurrection Scroll', '60% resurrection scroll' and '100% resurrection scroll'
- Added
waiting time 30 second on activation
of
'Reverse Return Scroll'
- Added
Halloween decoration in Jangan.
- The event
'Alchemy Boxes'
continues.
- Updated game client version to
1.114 01.10.19

*** To use the latest changes is required to update your client with the latest full client V.1.114 01.10.19 from the website.

Greetings from Warrior's Way Online Team!

#warriorswayofficial #warriorswayonline #playwwo