*This guide is originally posted on ecsro forum by myself (Raycrisis). I am more active on that forum so chances are the guide there will be more updated than here*
Hi all, I'm posting this guide to teach everyone what I think to be the right way to play European party. Many confuse the proper way to play their on class and complain another for not doing the right job. I am going through very detailed guide on how to do every thing right in the Euro party. I have been playing warrior majority of the time, but I've played other classes in a moderate but enough to understand what is going on in a party. I've play along side with my 2 brothers, so we all learn very well how to be in the perfect party. Forgive me for any grammatical error; I will consistently update this guide based on any comment or changes.
But before we start, this is a picture of a
FAIL
party
This is a picture of a
WIN
party, you should get the sense of it
Hence, you want your party like this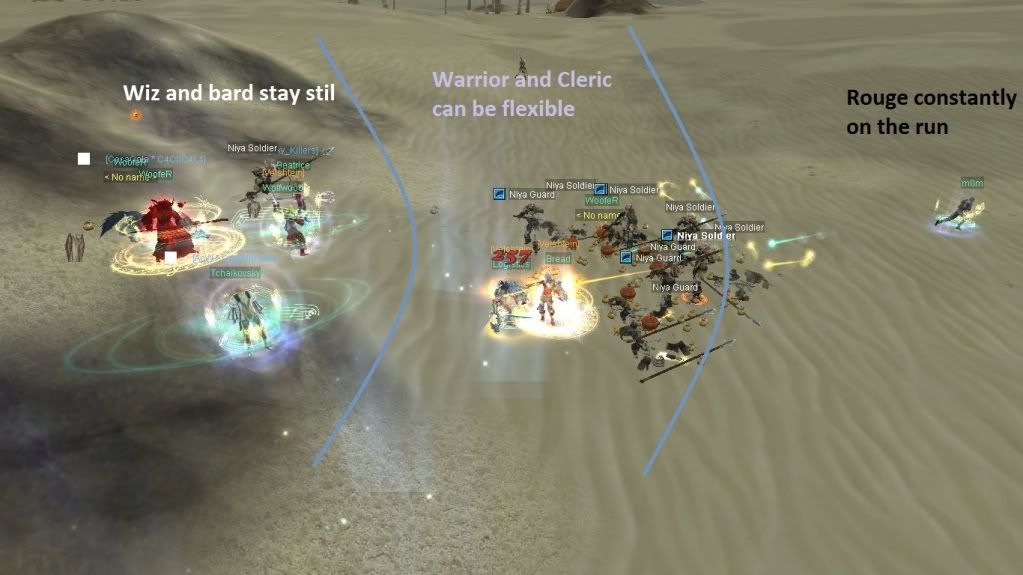 Party member
Having two warriors is not the most insufficient way to play European party. Its not terrible, but its bad. The reason people think you need two warrior can give all the wiz buff so they survive, later on you will realize you have been wrong this whole time. So hence there here is the general formation.
1 Tank 1 Lure 1 Cleric 2 Bard 3 attackers
Here are some choices
1 Warrior 1 Rouge 1 Cleric 2 Bard 3 Wizard
( easiest to form)
Why this work: I bet somebody is complaining about not having two warrior right now, quit bitching and listen. The only reason Wiz die is because they don't keep distance away from warrior and they attack monster on their own. If they keep distance and only attack monster that are sticking to warrior, they won't die, I guarantee it (if the warrior isn't brainless). Although there are some exception scenario such as Gp popping out of nowhere and such. Rouge are 10x better lurer than warrior, I will go through it in detail later
1 Warrior 1 Rouge 1 Cleric 2 Bard 2 Wizard 1 Warlock
(best Euro party, just hard to find int warlock)
Why this work: You included every Euro class in your party, beautiful. warlock has many interesting skills and plays an awesome sound effect in the background. They have skills that reduce agro on wiz so many can continue sticking to warrior. Warlock's debuff significantly make up a wizzard's damage and make killing GP a whole lot faster.
1 Warrior 2 Str Cleric 1 Rouge 1 Bard 3 Wizzard OR 1 Warrior 1 Str Cleric 1 Rouge 2 bard 3 Wizzard
What's this?!: apparently this is a ksro setup. 2 Str Cleric will spread out so much aggro that Wizard will never get attacked. Warrior's job is to distribute buff on str clerics and keep mob away from Wizzs but no tanking. I've personally never try this, but i guarantee this also work
1 Warrior 1 Rouge 1 Cleric 1 Bard 4 Wizzard
Why this just might be better: When having a wiz that is waaaay higher level than other, their dps will out damage bard's buff. If you have abnormally high level wiz/bars in party, make them all go Wiz. However, the only bard has to be really active and make sure no 1 run out of mp. This party has faster exp rate than 2 bard in return for buff lost.
2 Warrior 1 Cleric 2 Bard 3 Wizzard
(or 2 wiz 1 warlock)
Why you might want this: Sometime when party are going great, you would continue to go to monster up to 9 levels higher than you. The reason you would need another warrior is to keep the other warrior alive (both him pain quota and fence). This also apply to tanking Int based mob, it is difficult to tank those without buff. Tanking is a difficult job, and sometime It will take two to guarantee success. However, the luring will slow down significantly.
I don't think there are other effective formations, but list them if I miss them.
How to play your class
The difficulty I ranked below doesn't necessary mean its hard, but take some effort and decision making.
Warrior
(difficulty:
HARD
)
(an expansion of "how to tank" is here http://forum.sro.vn/viewtopic.php?f=35&t=13460)
I have the most experience as a warrior. You are pulling a lot of agro on you, taking all the damage not only from the mob, but from your own buff on other players. The buffs are
: Apply ALL of it to Cleric and rouge. They are the 1 who are really tanking the damage, not wiz. No one care if wiz dies, but everyone scream when the main cleric die because all the buffs are gone. Then the party go downhill. Sometimes when rouge and cleric are very strong on their own, then you can apply it to wiz.
:These skill are so fricking important; it is the reason the wiz and bard are alive. you generally use it on incoming monsters. If a monster is already sticking to you, chances are they will continue sticking to you. If not, quickly lure it back.
here is how you tank: use
to increase your agro and tankabilty. You don't even need to use skill on the monster, just "Hit" them. Normal hit with buff contain agro higher than wiz. Keep hitting and throw in some taunt every few sec
Tanking is not an easy job
, you need to be sure you can handle 5-7 party mob without dieing, use
as emergency. If you decide to stack those with bless, you will become indestructible. You second concern is to make sure cleric survive too. Your Screen skills (
) should also be focused on Cleric. If 1 party mob slip pass you, party can fail.
DO NOT
move the mob to close to wizz
DO NOT
run too far
DO NOT
use KD or KB ( you can KB monster that are on wiz, but not consistently pusing GP away from the party)
NEVER
use Giant sword; you're giving everyone a hard time. You can use Axe on giant to give bleed, but if you keep using axe you're giving cleric a hard time.
DO
always stay next to cleric
DO
stay still (you can still pick up item/gold sometime)
DO
lure the mobs constantly if they are on wiz (this is a difficult thing, you have to decide between staying still or to move to save the wiz. Sometime wiz will kill the mob, sometime not. Its all up to you if you want to save 1 live and kill the party, or let them die slowly and res and hopefully they kill it.)
Cleric
(difficulty:
HARD
)
Everybody begs for buffs. Its ok to be reminded, but being begged for it is pretty annoying. Here is a simple guideline. This class takes some effort to know what to do, what do use incase anything happen. You have huge liability.
STR buff ->>> warrior and rouge
INT buff ->>> wizard, and warlock. bard kinda doesn't need them but if they decide that they also want to attack, give them.
You can do whatever you want with the leftover buffs
Cleric also hold a large amount of agro from constantly healing, hence you will also be semi-tanking.
STR CLERIC VS INT CLERIC
.
This depend on the type of parties. Generally int cleric is a solid fail-safe build to go with. However, in 1 of the party i listed above need str cleric as a tanker instead of warrior. Either way, with a good bard its good to go.
Make sure the Tanker doesn't die
: If tanker die, you will lose all the warrior buff, you will die next, every 1 else follow. Keep an eye out, don't just use healing cycle and forget.
Your healing skills are
: These healing skills are ok. Since you have so many other better healing skills, you will NOT need to upgrade these.
: group heals, they are lovely. You will need to max it.
: this give 2 heals to anyone who has low hp (including yourself). This skill is instant, get it.
: obviously this is healing over time. Everybody loves this, but warrior loves it most.
: these are "emergency", they are instant and heal a chunk load. Its a life saver, but the cool down is really high. You pretty much replace your single target with this. Generally also focus on warrior.
: group emergency heal, same idea
Healing note: You want to focus on warrior and yourself most.
DO
constantly heal, even when nobody needs it (healing produce agro so mob will stick to you and warrior, not the rest. Heal agro are also farther than warrior's lure, making it very effective for monster to stick to you. Btw healing cycle isn't enough for warrior sometime, it take a whole lot more to keep them alive if the party is going well)
DO
constantly check who needs buff
DO
use bless wisely, it's a emergency defense, if no one needs it, don't use it
DO NOT
move to far and run around too much
Rouge
(difficult:
MEDIUM
)
Its really hard to find a reliable luring rouge sometime. Either they are so dumb or they don't speak English at all.
You will use these luring skills.
:Just HIT and RUN , you are not taking damages. Warrior buff will keep you alive only in some distance. Gather mob and run back pass to warrior and cleric so mob get off your back, and continue. You have to know when the party is failing, you should not bring your load of monsters back to the party, that's not helping. This job is about consistency and quick mouse movement to lure all the mob. There is a video of a chinese lurer, waayyyy better than so many noobs in our sro( link below). Sometime you just can't resist and want to take part of the killing, sure go ahead, but ONLY with daggar and ONLY when you have zerk on. Xbow doesn't help, it pushes and pull and KD. Don't bother if you don't have dagger, you xbow skills aren't helping. Just keep luring.
Why Rouge is better lurer than warrior
: Rouge hold no agro, what this mean is mob get off their back easily. Rouge also walk faster, their fast shot and multi shot can hit SO FAR, SO FRIGGIN FAR. That is why, rouge is 10x better than warrior at luring. Just dont run out of the buff range
DO
always run around looking for mob, bring it to cleric and warrior.
DO
know when not to bring monsters back.
DO
tell party there is a GP and that they should wait and get ready
DO NOT
ever KD on GP, it PISS ME OFF SO MUCH
DO
only and always use Fast shot and multi shot to lure enemy
Warlock
(Difficulty:
MEDIUM
)
As a warlock you can be anywhere you want. You don't die easy, and you have vampire kiss to take advantage off. I haven't really have a lot of warlock in my party, but when I do they know what they are doing. Warlock isn't a newbie friendly class to begin with anyway. So I really don't have much to say. Although there are many fun useful skill you should take advantage of. Aside from all of that, you should help protect the wizard in-case any mob come. Just stun the mob and do your thing.
Notable skills
: if you walk next to warrior and cleric with this skills, you are taking full advantage of it plus adding awesome sound effect
: "mirage", this skill reduce mob's agro. It can help save a wiz or 2. BTW using this on giant produce a large cool dark effect.
Bard
(Difficulty:
EASY
)
We all know bards are best for having a wonderful buff( that look gay on dudes) and afk, and I kick them instantly. Beside that, constantly giving mp is very very important, mainly on cleric (but don't forget about wiz too). You have two choices
: "MC", mana cycle. Mp over time, its good on wiz and doesn't break harp
: Mp in chunk, longer distance than MC, faster, better. But break your harp so quickly and it contain agro. Only use this when your in a good party.
Generally, people would want bard to pick up item. They can if the mob doesn't have splash damage. Personally in this setup, cleric and warrior will do a part-time pick up.
Some fun skills:
: "Temptation", entertain yourself by watching one of the mob attack one another. Also can help save a wiz.
: "Discord Sound", similar to mirage, but more concentrated only one a single mob. Used to saved yourself or wiz.
I'm not going through the 2 bard buffs, cause i think everybody knows about it.
DO NOT SIT DOWN
, unless reason is given, I would kick any them right away.
DO
constantly give mp.
DO
always use Harp THAT ARE YOUR LEVEL. If your harp is terrible the mp you grant is terrible
Wizzard
(difficulty:
EASY
)
In my party, when wiz beg for my warrior buff I would give them a reason or two why they don't need it. They would then complain more about how wrong i am, so I kick them. Act right, stay back, attack only monster that are on sticking warrior. Take advantage of you splash damage. Setting up fire trap immediately attract a mob to you, don't do it
Notes on some skills:
: You know what they are, use it. If you don't use it, i might as well just get a chinese nuker who will do the same damage as you with better survival.
: NEVER USE THIS (in a good party). the last thing you want is to be right up close to warrior and cleric
: This skill get me angry the most. It does a terrible damage and turk just mindlessly spam them even when the mob isn't nearby. PLEASE only use it to get the monster off you.
: Please take advantage of this skill, use it even when you don't need it. This help warrior's tanking too
DO NOT
move too close to cleric or warrior
DO NOT
use lighting know back, damage its horrible. Only use it when party mob is on your ass
DO NOT
use the first earth close range nuke, You want to keep distance.
DO NOT
move at all, if you accidentally move, just go back.
DO
always use Life control. Your safe in the back, JUST USE IT.
DO
always stay still, it look nice and safe when you don't move.
DO
zerk when you can, don't save for GP. If the party is going very very well you will get zerk ball in no time.
Chinese
(for luring)
Sometime Chinese are way more useful than rouge. All they need to do use is a bow. They survive better and can walk a lot faster. Its even better if they have force, it helps out a lot on Gp. Bladders are pretty useful too with their snake dance skill. Don't just shun them out. These video's lurer are Chinese, and they are dam good. Str chinese are more favorable than int.
http://www.youtube.com/watch?v=Kpmezpnn4_I
(This is a force glaiver that use a lvl1 bow to lure)
http://www.youtube.com/watch?v=l3uv_zCApug
How is it possible to party at mob 9 levels higher than the player's levels?
IF you are able to form this proper form of party, here is the reason why you can go level at much harder mob
- Warrior has all cleric buff with str (10+ and more) , vital increase,and guard tambour, this make the warrior at least 6 level equivalent stronger.
- Wizzard are Using life control that maximize their damage, making it easy to kill high level mob. Cleric's int buff also improve significant damage
- Bard's dance of magic further improve wizzard's damage
If you play it properly you will be so surprise how well things are going.
Other Thoughts and Tips
- Bard can help attack monsters if they want, their skill are kinda fun
- Having GP doesn't necessarily mean rouge should stop luring, keep it going.
- Bard's level doesn't matter( doesn't mean you want a level 10 in a level 80 pt, 70 is enough), they still give a decent amount of mp so don't shun low level bard out too. Most low level bard i invited are so thankful they don't afk and very active
- Having wall make the party formation alot easier, but don't be discourage when you standing in the middle of nowhere.
- Only party at monster that are close melee, easier to chunk together. Mob can be 4-6 level higher than you. You can go to mob much higher later on because cleric str/int buff play a very significant role.
- If anyone come by (even chinese) with a pet. You would want that person in the party cause its just too tiring to pick up on your own. I once died from being too focus on picking
- All back-up cleric stay ALERT, when either cleric or warrior die, Switch and BLESS BEFORE RESS.
- If wiz complain too much about buff, give them pain quota and later they will realize they don't need it.
- You don't have to follow the buffing guide, sometime cleric and rouge are strong. They wont''t need quota so the fences is enough. 1 unlucky wiz won't b getting your quota, but provide them equal opportunity.
- my warrior has a cleric subclass. When my cleric die, i don't want to switch because people will lose buff. So someone better b fast to switch and res.
- When party goes really well, there will be shitload of item/gold/tab/other stuff. Picking up gold under a tablet is not easy, and i can't even walk around without accidentally clicking on floor items. Nobody wants to pick up tablet but its unavoidable, so save your bitching and just drop w/e is useless.
YOUR PARTY SHOULD LOOK LIKE THIS
http://www.youtube.com/watch?v=WIMpjsewis8
(Note! that the lurer is chinese, and the bard is low level constantly using mana wind)
This party set up need people with experience, if they are turks and don't speak english don't bother with them. When forming party make sure they speak english, ask them ahead of time to say something creative in english. They need to be willing to listen to you and follow your guide. You need time and patience, talk to them if they know how to do the proper thing. If they are impatient don't bother with them, finding wiz and bard are very easy (making them shut up is not). In all honesty, if you can't even get 2 people to follow you, give up......
I, myself, have been forming numerous party with my brothers throughout the game. We don't have all ff lvl100, but that doesn't mean we don't know what we're doing. We simply play this game for fun of euro party. We were doing sunsung at 34, Mujigi at 42, penon at 48, PEG at 56, Yacha at 64, Niya Guard at 66, and now 72 at B1 (lv81 mob).
Good luck to you all.
Thx to my fellow party-mates in the picture