I made this guide a while a go, but i think it deserves it's own thread, and it will be easier to find for people interested.
I'll try to explain it as clear as i can:
First open Media.pk2 with PK2 extractor:
Then, find characterdata.txt in \server_dep\silkroad\textdata and double click in it to extract:
Once you have this file, make a backup of it, and name it whatever you want, i used "characterdata.txt.bak".
Then, open the file in a text editor such as Wordpad or Notepad:
You want your wolf to look like Cerberus, so look for his entry in the file, which is this:
Scroll to the right to see this "mob\europe\kerberos.bsr" and copy that line:
Then look for the entry of your wolf "COS_P_WOLF_0XX" where "XX" is your wolf's level, in this case i used a lvl 35 wolf so it's "COS_P_WOLF_035"
Go to the right side to find this "cos\p_wolf_01.bsr" and paste the kerberos line over it:
Now the file is bigger, so go to the end of the file and look for the euro mercs entry:
Find this line: cos\guild_eu_soldier9_scroll.ddj:
And replace it with "cos\cos_c_horse1.ddj" to make the file smaller:
Now, save the file, close Wordpad and open the backup (original) in HexEdit121 and check the file size:
Now, you need to make the size of your modified file the same as this. Your file should be smaller, so, to make it bigger start adding 00 at the end and check the size:
Once the size is the same, save.
After this, open Media.pk2 in HexEdit121: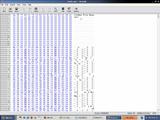 And search this line in Hexadecimal mode ""FF FE 31 00 09 00 31 00 39 00 30 00 37 00 09 00 43 00 48 00 41 00 52"
Once you find it go to Edit->Paste from
And select the characterdata.txt you modified:
Done, save your file and start playing.
Good luck.
Credit of this goes to Cruor because it was his guide, i just added the screenshots and tried to make it more detailed.
A list of the mobs can be found here:
viewtopic.php?p=498017#498017
P.S. This same process can be used to change your rabbit/monkey/squirrel to another mob and your horse into the TG's tiger and Uruchi's dragon.