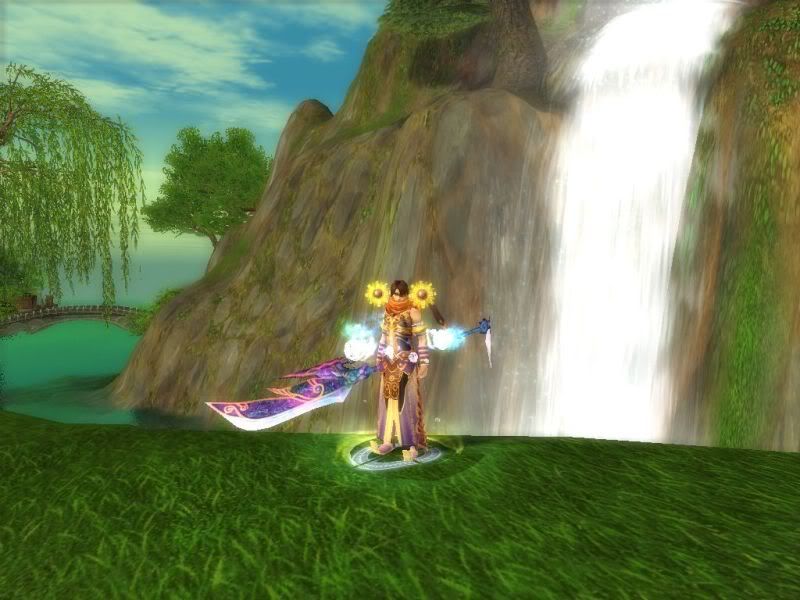 I didn't see a guide for Glaive so I went ahead and made one.
Why Glaive?
Great pvpers meant for tanking Int Characters. High HP allows tanking multiple targets in FW situations. Good at PVE if you like to grind like this:
Code: Select all
Pure Str or Hybrid?
Ok, this is where it gets tricky. Don't listen to people who tell you hybrid STR is shit. They tend to follow conventional builds and do things that are fail-safe. A hybrid Glaive is not fail-safe, you absolutely must be careful if your going to make one. They can be weak if they are not done right. When hybrid, you will want more STR than INT obviously, and at around 8:1, 7:1, 6:1 etc...
Pure Str is much more generic but it is fail safe. You will have more hp than hybrid and be a better tank. But the downside is that your damage is slightly lower. Hybrid is slightly better at PVE in comparison to pure str.
Hybrid
Pro:
- Higher Damage than Pure Str.
- Better at PVE in comparison to Pure Str
- Able to hold a higher snow shield (30%-35%)
- More MP for your high MP requirement skills
- Pure Ints do less damage to you
Con
- Less Tank-ability
- Less HP
- Need for Ice
- Possibly not having Light
- Pure Str does more damage to you
- Not a Unique killer
- Weaker Crits
Pure Str
Pro:
- Better Tanking than hybrid
- Highest HP Chinese build
- Great for 2 vs 1 situation in PVP
- High Damage
- Strong Crits
Con:
- Lack of MP and need for a lot of MP from skills
- Pure Ints do more damage
- 20%-25% snow shield max.
- Less damage compared to hybrid
* Damage is sacrificed when you want better tanking. Vice versa is true as well. For Chinese anyways...
Gear
There are only two options when it comes to gear for a glaiver, Garments and Protector.
Protector:
Medium physical defense and medium magical defense. Very useful against warriors and rogues. It decreases the damage they do to you significantly.
Garments:
High magical defense and low physical defense. Useful against S/S, Spear nukers and Wizards.
Depending on your play style you will want to choose wisely.
In case you didn't notice, I have put pictures of shields up on top. Now you will need this at all times when it comes to pvp. Its useful right after Ghost Spear, in case you don't kill your opponent, and they hit you back, you get a block in there. This is also useful when you get knocked down by those KD spamming bladers. Always useful to get blocks in their and have their KD be made useless.
As for the stats on the shield, you will want BR 16+ and at least a +3. I would recommend a +5 or better but a +3 will do just fine as long as it has good BR. Also on another note, do not use a low level shield, keep it up to date. As in, dont be level 100 and use a level 1 shield just because its Sun. The extra defense from the up to date shield is very important and nothing beats having the HP of a glaiver and the defense of a blader.
Code:
[b]Stats for Gear:[/b]
+:5 or better later on. Early levels, npc does fine.
Phy Def/ Attack: 61%+
Mag Def / Attack: 61%+
Dura: 41%+
Parry/ AR: 61%+
Phy Reinf: 61%+
Mag Rainf: 61%+
Crit: 9 or better.
Same thing can be applied to weapon.

Builds:
I will not help anyone reading this with their build, but I will mention the skills needed for each tree, if you plan to get it. If you are looking to make a dual weapon build, go look at the skills required for the 2nd weapon. I'm not going to mention the skills needed for Bow or Blade, I don't know them and I don't own either one of those builds.
Green:
Yes
Purple
Optional
Red:
No
Heuskal
Annihilating Blade Series
This skill is useful for the early levels. Get it for the early levels but drop it later on. You can continue it if you like. It isn't a bad skill at cap, but it isn't great.
Fanning Spear Series
Get the 1st, 3rd and 5th book. It increases Magical defense and its really helpful against Pure INTs and Chinese STR. It reduces a Pure INTs damage significantly and lowers a STR attack power a slight bit.
Heuskal Spear Series
Good skill to get. Its great for DPS and works well with Soul Spear Emperor at later levels. This skill is a hp breaker type of skill, its used to tear into the opponents HP. At 100 you will still most likely use Windless because Death Bringer is a terrible skill. It has good damage but it ruins a glaivers DPS and the lack of DPS isnt work the little extra damage. The difference between a 92 skill and a 100 skill is a few hundred damage but there is a delay after using Death Bringer that allows the opponent to gain back that HP which Windless doesn't have.
Soul Departs Spear Series
This is your main skill. This skill is useful throughout the game. It always has good damage. This skill is also a HP breaker, it allows you to wear into the opponents HP and setup for the kill using Ghost Spear.
Ghost Spear Attack Series
This is your strongest attack. It is used to finish off the opponent. You dont want to overuse this skill, only use it when you know you will kill the opponent.
Chain Spear Attack Series
Useless skill. Say SSE does 10k over 2 seconds, these skills will do the same 10k over 5 seconds. Massive waste of time in pvp.
Flying Dragon Spear Series
Great skill for FW, wizards and rogues. Helps kill people who like to run away people who keep distance when pvping.
Passive
Increases HP. Self explanatory.
Fire
Fire Force Series
Strongest imbue in the game and as a STR build you will need it.
Fire Shield Series
Optional. Even as a pure str you dont really need it. Its only useful against people who use Ice imbue and very few people use it. However, I would recommend getting it because it is useful.
Flame Body Series
Increases physical damage by 9% at cap and its very useful. But leave the last book at skill level 1. No need to waste extra SP and gain no more damage.
Fire Protection Series
Increases Magical defense. Very useful in PVP and PVE against Int based monsters.
Fire Wall Series
I would really recommend getting it. Its really helpful against Euros. Stops rogues from knocking back with the Xbow, stops Warriors from knocking back and completely stops Wizards from hurting you while its up.
Flame Wave Series
Ignore.
Fire Combustion
Optional. A lot of Wizards and Rogues have stopped increasing invisibility though just because most people use other methods to see invisible players.
Passive
Increases physical damage. At cap it increases attack power by 10% and combined with Flame Body Trial, it increases physical damage by 19%.
Cold
Cold Force Series
Skip it. The damage is bad and the only time people are not immune to ice is at the beginning and end of a cap.
Frost Guard Series
Max it. This along with the passive increases physical defense by a significant amount. It will lower the damage a Pure STR does to you.
Cold Wave Attack Series
Skip it. Completely useless.
Frost Wall Series
Optional. Get it if you want to avoid rogues who go invisible. Their first hit on you when they come out of invisibiliy will do no damage.
Frost Nova Series
Freezes. Useless later on.
Snow Storm Series
Useless.
Snow Shield Series
Get it. But if your Pure STR, 25%, if your hybrid 30%+ depending on how much hybrid you are.
Passive
Passive, increases physical defense. These physical defense buffs in the Ice are useless unless you get both of them. The two work together to help you gain good defense. You cannot just get one of them.
Lightning
Thunder Force Series
Second strongest imbue, but fire is still better.
Piercing Force Series
Increases magical damage and it will increase a STR builds damage as well.
Wind Walk Series
Increases speed by a significant amount, but I dont recommend raising it past 80. Everything after 80 has very small changes, anything past that is meant for pure INTs.
Lion Shout Series
Skip it.
Concentration Series
Increases parry ratio and in other words makes your opponent hit for less.
Thunderbolt Force Series
Skip it. Not useful for anyone using a Glaive.
Passive
Increases parry ratio. This with concentration will increase parry ratio by a significant amount.
Force
Self Heal Series
Skip it. Your not a cleric. Bad heals anyways.
Force Cure Series
Get it. Saves you some blue pills against other force users and warlocks.
Cure Therapy Series
Optional. You already have a cure, but two couldnt hurt I suppose.
Heal Series
Useful for healing a large sum of HP on a moments notice. But still, dont try to be a cleric with it.
Rebirth Art Series
Good to have if there are no clerics around or if you dont want to cause an Immolation war. Also useful if you like to powerlevel and want to revive the people that you are powerleveling.
Natural Therapy Series
Useful if you wanna go AFK for a brief moment while you are in the middle of grinding. Also useful if you wanna keep the people you are powerleveling safe.
Vital Spot Attack Series
The most important force skills. These allow you to reduce your opponents attack power and defense, increasing the damage you do to them and decreasing the damage they do to you significantly. Highly recommended every force user gets these skills.
Passive
Increases MP. Always useful for a glaiver.
SP:
Altogether SP will be fairly low for Glaive. If you leave out the optional, Glaive is a very SP friendly build in comparison to other builds. Its one of the reason there are so many glaivers.
Skillbar
Now, its very important to set up your skillbar to your needs and how you like it. Don't be one of those glaivers who sets all useful skills on 1-4 and spams the shit out of those 4 keys. Mix it up, it doesnt need to be the best skill bar, but you cant just be spamming skills and hope to win. If that is how you win, then you need better opponents.
This is my skillbar:

I wont say its the best skillbar or this is how you should set it up. But you should look into setting it up so its comfortable to play in and doesnt hurt your own hand. Also try and know what your skill bar will look like in the future. That will help you whenever you get new skills.
PVE:
Depending on your play style, you will want to grind differently. What I've seen and done that works is grinding on mobs your own level. Killing faster beats better exp bu slower kill. For example, grinding on mobs your own level means you 1 - 2 hit them (1 hit if your hybrid, 2 if your pure str, FF that is.) instead of 4-5 hits and having each mob waste more HP pot. So essentially what I'm saying is, kill speed beats better exp. No that does not mean grinding at mangyangs will level you fast, but grey mobs over red. Just because you are level 50 and can kill mages doesnt mean you should.
PVP:
In time, you will learn to do something called HP counting. HP counting is when you know your opponents build and in terms know their health, so when you are attacking, you who a roundabout on where their health is. What this allows you to do is know when your opponent is going to die and even if your going to be able to kill the opponent with the damage your dealing. This sets you up to use Ghost Spear to kill the person because when you realize that they are under a certain mark on their HP you use it to finish them off.
Credits:
sro.mmosite.com
silkroadcp.joymax.com
* I'll add anything more if necessary. Suggestions are always welcome on how to improve the guide.
* I know I forgot something.
The End