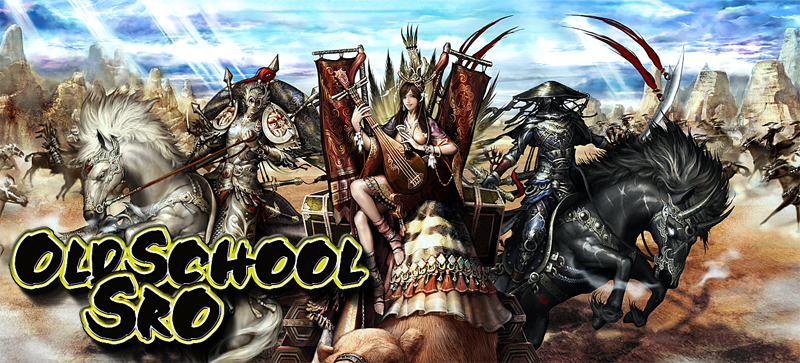 Hello Silkroad Addicts
We want to present you the only OldSchool iSRO-like 80 Cap Server around.
Our plan is to bring the old feelings back to the players, because we all think, that these iSRO times were the bests.
That's why we created this server for you and for us, with just some changes compared to the old times, to have some more fun and balancing in the game.
OldSchool is first of its kind, OldSchool a Chinese 80 Cap server with an improved set of Oldschool features,All the features in game are tested and functional to guarantee you the most stable and entertaining game play you can achieve out of the originally first 80 Cap Server that came on the scene and which is here to stay.
Server Information
● Server Status
Online
● Website Status
Online
The official opening will be at next Friday 9/5/2014
● Auto Equip SOS+5 from D1 to D7
● Exp/Skill point rate: x5
● Exp/Skill point rate in party: x8
● Gold drop rate: x1
● Alchemy rate : x1 Limit +10 Maximum
● Items drop rate global: x3
● Items D8 drop rate: x15
● Stones/elixirs: Drops increased
● Job Experience rate: x1
● Job Gold Rewards : A special feature has been created for the active Jobbers. Once a week, during the server inspection, the weekly job ranking and contribution will be calculated. We added to this procedure a Gold Bonus as Extra Reward. This bonus is calculated in regards of the contribution done during the week.
● Mob Spawn in Taklamakan is increased.
Server Features
● SoX drop:
Enabled
● Academy System
Disabled
● Magic Pop
Disabled
● Resurrection Scrolls
Disabled
● Lightning Walk Speed on lvl 80 is 105%
● Snow shield up to 10% only for STR build.
● Useless Drop removed Pills/Pots/Arrow
● Damage increase scroll
Disabled
● Damage absorption scroll
Disabled
● Advanced Elixirs are
Disabled
● Purification Pills bug fixed
● Removed Vigor grains(25%) from the NPC.
● Removed Job/guild penalty.
● Mercenaries
Disabled
● Devil Spirit
Disabled
● Working Guild Icons
● Offline Stall Network
● Donate
Enabled
● Ip Limit 3
● CTF
Disabled
● Daily Unique Event
● Reverse Return Scroll : 4mins Cool down added
Item Stacks
New Scrolls
Area
Penalties
Fortress
Automatic Event
Forum Signature
If you'd like to support us, please add this signature[/SIZE][/FONT]
Link:
http://i.epvpimg.com/jK75c.gif
Links
http://www.oldschoolsro.com/download
http://www.oldschoolsro.com
https://www.facebook.com/oldschoolsro
I'd like to inform you guys that there will be many updates in our server we won't stop at the current functions. we had works over 3 months non-stop working to present you something that had never been presented or seen in any server, stay tuned for more updates and see you in game.
We hope you will enjoy your time on OldSchool-SRO together with us.
Cheers From OldSchool Crew!